Meggan Baumgartner •
MAcOM, LAc, Dipl.OM
Asian Medicine: Acupuncture, Chinese Herbs, Qigong
---
Hours
---
Meggan is available Monday through Friday by appointment only. Call 208-669-2287 or email to schedule an appointment or to pick up refills on herbs.
Appointment times as of January 1, 2021:
| DAY | TIMES |
| --- | --- |
| Mondays | 9:00am – 4:00pm |
| Tuesdays | 9:00am – 4:00pm |
| Wednesdays | 10:00am – 5:00pm |
| Thursdays | 9:00am – 4:00pm |
| Fridays | 9:00am – 1:00pm |

* Please note the above times denote when an appointment BEGINS.
For example – the first appointment on Wed's starts at 10:00am and the last appointment on Wed's STARTS at 5:00pm.
---
Location
---
Address:
106 East 3rd St., Suite 4B
P.O. Box 9381 (for all mail)
Moscow, ID 83843
---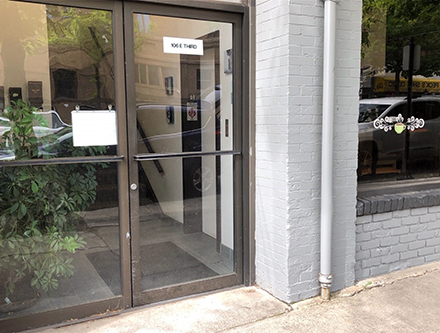 Main entrance

Waiting room
Meggan's practice is located at 106 East 3rd Street, Suite 4B in Moscow. This is located in the building that includes Cafe Artista, just above the coffee shop. As you enter through the glass doors on Third Street, you can go up the stairs or utilize the elevator to your right. At the top of the stairs, the waiting room is directly in front of you. Turn left, going under the threshold with the sign: Offices 4 - 5 - 6. As you walk past the 4A door, you'll see 2 bathrooms on your left. Meggan's office is 4B, the first door on your right in the hallway. Please do NOT knock or enter unless the door is ajar.

Threshold

Meggan's office, 4B