Meggan begins your session with a brief history, assessment and evaluation. For the initial visit this takes about 30-40 minutes; subsequent visits take significantly less time. Please have questions, concerns, medical records, supplement and medication changes prepared for this time. Meggan will use all this information to determine the best treatment modalities for you. Most treatments include a combination of acupuncture, acupressure, dietary advise and possibly cupping, moxabustion, herbal suggestions and/or lifestyle recommendations. Meggan will explain any new modality used during your session.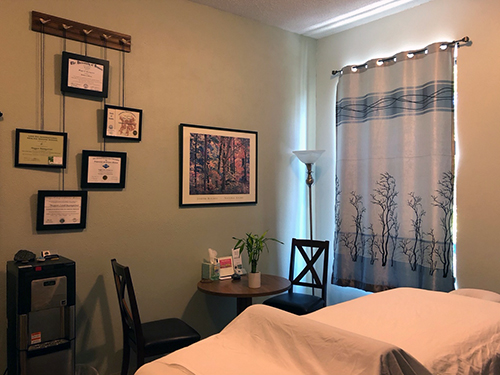 A common question is, "Does acupuncture hurt?" No, it should not be painful. That does not mean it is without sensation. You may feel the prick of the needle going through the skin and then a variety of possible sensations like distension, ache, tingling or warmth. The needles are the size of a human hair and therefore cause very little sensation in most people. It is nothing like getting a shot or having blood drawn. Meggan encourages you to let her know if any modality causes discomfort.
A note about COVID-19
Due to the pandemic, Meggan's working procedures have significantly changed. This will impact your in-person treatments. For example: detailed pre-screening is done, masks are required, extensive disinfecting occurs before each session, and more. Telehealth options are available for herbal consults, dietary and lifestyle counseling, acupressure and Qigong recommendations. Please contact the office for more details.
You can download the file, print it, and then fill it out at home. Make sure you bring it with you to your first appointment. If you do not have Adobe Reader installed, you can visit the Adobe website to download a free version.